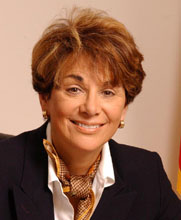 From FDL:
As part of the nationwide "Treat, Not Trick" effort yesterday, AMSA medical students Connie Chen and Rebecca Mitchell organized a visit to Anna Eshoo's office in Palo Alto. Eshoo's biologics legislation is a huge gift to PhRMA that will keep important new cancer drugs from ever becoming affordable generics. Their passionate advocacy on behalf of their patients is really inspirational. Watch the video — it will make even he hardest cynic smile.
Eshoo's staff doesn't want them to film in the office, and responds by handing them a Xerox copy of Eshoo's talking points.
Eshoo
wigged out yesterday
in the Hill and the Huffington Post and launches a bitter, personal attack in response to
my article on her PhRMA-friendly legislation
— and Nancy Pelosi's daugher helps her promote it. Which is surprising — I said I was "disappointed" in Pelosi because I thought she was just bowing to the will of the caucus, but I guess she's endorsing Eshoo's efforts. (I know Christine, she's very cognizant of how this stuff reads and doesn't do things like this in a vacuum).
I'll have a more detailed rebuttal later, but in the mean time, I invite you to read the Pelosi-endorsed Eshoo melt-down and watch the video of these wonderful young students and compare.
As medical student Sha Ali says, the government is already paying money for the research and development of these biologics, so to make the health care system absorb enormous costs for drugs the public already has an interest in is deeply corrupt — and the cost in human life is completely immoral.
Eshoo's demand for "data exclusivity" (patent monopoly) to protect "innovation" (blockbuster pharmaceutical profits) is wound around such a shameless pack of lies it's amazing that it only cost drug companies
$712,983 in campaign contributions.
As the students say, this is a $71 billion boondoggle for PhRMA. They are paying Eshoo pennies on the dollar for the privilege of raking in enormous profits on government-sponsored research.
POP is joining with these wonderful students to help them fight Eshoo and Kay Hagan, women who are willing to impose a huge financial burden on the health care system and cut off access to the newest drugs that could save the lives of breast cancer survivors. These young people shouldn't have their hands tied by such corrupt, protectionist legislation that puts corporate profits over access to health care for their patients.
Special thanks to our good friend Jim Ehrlich,
the Hippy Gourmet
, who went to Eshoo's office with the students and produced the wonderful video.
If you are someone you know are on any of these biologic drugs and are having to foot the bill, or should be taking one but can't afford to, please let us know.