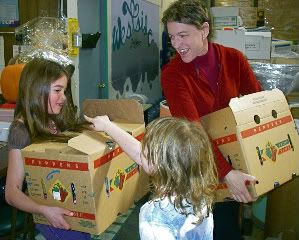 From the
LA Daily News
:
The unprecedented grass-roots organization Barack Obama built in his presidential win appears to be evolving into a nationwide support group to help him "change America."

Some of his volunteers from the San Fernando Valley and throughout the country are calling their new community service movement "Obama 2.0."

"The job is far from finished, and that's what we're now dedicated to doing," said Peter Rothenberg of Northridge, a co-chairman of Valley for Obama during the campaign.

The Valley for Obama organization that registered tens of thousands and said it called millions of voters in key election states has become part of a newly formed nonpartisan community service nonprofit, named CommunityOrganize.com.

Its first major campaign, an anti-hunger food drive across California, netted two tons of food gathered in the San Fernando Valley alone.

CommunityOrganize.com also raised $1,150 in online donations for the L.A. Regional Food Bank.

"We want to continue the work that got us committed to electing Barack Obama president," said Marcia Schneider of Northridge, who is involved with CommunityOrganize.com.

Organizers say the new movement is taking shape outside the existing party structure, with its nonpartisan approach meant to appeal to political independents as well as Republicans.......

.......Obama organizers said the anti-hunger campaign will lead up to a national community service day Obama volunteers have scheduled for Martin Luther King Day, Jan. 19, the day before the inauguration.

"We've been told that Obama plans to talk about this community service work during his inauguration address," Rothenberg said.

On that day, the Obamas and Bidens will perform community service in a symbolic step to set the tone for the new administration, according to a spokeswoman for the inaugural committee.

"We want to find ways to connect people to each other in as many ways as we can," said spokeswoman Linda Douglass. "And our goal is to try to make people in this country be involved in some way."
Read the rest here.