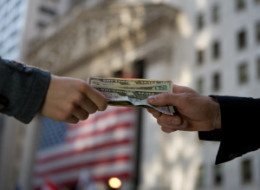 From the LA Times:
Bolstering their status as the presumed frontrunners in the crowded special election for a South Bay-based congressional seat, Democrats Janice Hahn and Debra Bowen have outdistanced their rivals in campaign contributions, reports filed with the Federal Election Commission showed Friday.

By the March 31 close of the reporting period, Hahn had raised $274,443 and spent $103,177, while Bowen had collected $195,224 and spent $102,227. Bowen, who is California's secretary of state, and Hahn, a Los Angeles councilwoman, are vying to succeed former Rep. Jane Harman (D-Venice) in a district drawn to favor Democrats, who hold a nearly 18-point registration edge.

But Republican Craig Huey, owner of an advertising firm, had more cash at his disposal than Bowen and came close to matching Hahn's money by lending his own campaign $250,000, according to his FEC report. He spent $155,695 and reported raising $1,727 in contributions from others.
While fundraising numbers as a metric of potential success are unreliable (Meg Whitman anyone?) and are an incomplete and constantly moving target (Debra Bowen raised an additional 40K just outside the reporting period thanks to a drive sponsored by Howard Dean), they can still provide some valuable insight into a campaign's strengths, weaknesses and priorities.
One meme I hear in the press a lot
is that the race between Hahn and Bowen boils down between Hahn's "beer-track" blue-collar union support versus Bowen's more affluent "wine-track" coastal support.
But if the
latest fundraising figures are any indication,
Hahn's support is more like "LA City Hall/Veuve Clicquot-track"
Besides the union and PAC support that can be expected from her endorsement list, Hahn's donors include high-powerd Los Angeles developers Eli Broad and Rick Caruso, who donated $2,500 a piece.
Edison International, which owns a 78.2% stake in the
San Onofre nuclear power plant
, donated a whopping 10K.
The National Apartment Association PAC, an association which lobbies against rent control, donated $2,500. NAAPAC's local affiliate, the Apartment Association of Greater Los Angeles,
seems particularly proud
of it's fight against "socialized housing"
Rent control in Los Angeles surfaced following Armistice Day on November 11, 1918. One of the earliest successes of AAGLA was defeating this early rent control attempt. But rent control reappeared in World War II. Tenant activists and federal officials wanted to keep the wartime controls in effect, but our organization fought to end rent regulation and helped build the massive expansion of rental housing that occurred in the post war era.

An attempt at "socialized housing" occurred in the 1970s when Chavez Ravine was a political war zone over whether or not to build $110 million worth of low-income high-rise rentals of the type sprouting up across the nation. The result was a nationwide glut of instant slums.

As amusing as AAGL's position on rent control might be, the "money" donation - literally and figuratively - comes from the high-powered LA City Hall lobbying firm of Ek & Ek, whose president and employees donated $8,000 to Hahn's congressional campaign.
Ek & Ek is of special interest both because of their deep connections to Hahn and because of their involvement in last year's controversial
"food fight" over a highly lucrative LAX concessions contract.
It seemed an obvious idea: Bring in new concessionaires to improve the food and shopping at Los Angeles International Airport, giving a distinctive L.A. flair to a drab facility that receives often-dismal ratings from passengers.

Five months after the contract was supposed to be approved, however, another distinctive L.A. feature has taken over — the tangled politics of City Hall. Like past plans to modernize the airport, the effort to overhaul the concessions has slowed to a crawl......

For many of the restaurant and store owners who had hoped to move into the airport, the delay has been frustrating. "We are mostly small, locally run businesses, and it's just impossible to plan because this thing is just in limbo," said Richard Karno, owner of Groundwork Coffee Co., which is part of one winning bid package. "It seems like it's coming down to who has the bigger, badder lobbyist."......
Karno's Groundworks, along with a number of local LA eateries, had won a competitive bid to take over the $600 million contract, but were stymied after HMS Host, the existing concessionaire and losing bidder,
appealed the award
to the LA City Council.
HMS Host is a
major client of lobbyist Ek & Ek.

The firm, Ek & Ek is based in San Pedro, where Hahn lives, and its principals are close friends of the councilwoman. Hahn raised $36,750 from Ek & Ek and its clients during her recent unsuccessful campaign for lieutenant governor. She has gone on vacation at least four times with the firm's vice president, Esther Ek, traveling to such destinations as Hawaii and New Mexico......

From the LA Weekly:
The city of Los Angeles has fairly strict campaign-finance regulations. Lobbyists are banned from contributing to city campaigns, and contributions to council members are capped at $500.

But when Councilwoman Janice Hahn announced her candidacy for lieutenant governor last fall, a gaping loophole was created that Host and other bidders wasted little time walking through. Nothing barred the companies from contributing to her statewide campaign, even though she still sits on the City Council.

Hahn is well positioned to influence the case. She serves on the Board of Referred Powers, which is to hear Host's protests this month. She also chairs the Trade, Commerce and Tourism Committee, also expected to review the contract before it goes to the full council.

Last fall, Hahn's campaign for lieutenant governor received $6,500 — the legal maximum — from Host, along with $1,000 from Host's minority-owned partner, Concessions Management Services.

Because there is no ban on lobbyist contributions to state campaigns, she could also take money from Host's lobbyists. John and Esther Ek, of the San Pedro lobbying firm Ek & Ek, each contributed the maximum amount. The law firm Sheppard Mullin, which also represents Host, gave another $1,000.

Hahn also received money from other bidders and their lobbyists. In total, at least $40,000 of her contributions for lieutenant governor can be tied to LAX concessions businesses or their lobbyists.
From 2009-2010 Hahn amassed nearly $55,000 in donations from companies involved in the LAX concession fight, more than any other politician at City Hall. Despite receiving contributions from some of the interested parties, Hahn never recused herself from voting.
Last fall Hahn - along with a majority of the Board of Referred Powers - voted in favor of Ek & Ek's client. They ordered that the winning LAX contract package, which included Venice's Groundworks Coffee,
be thrown out and rebid.
Separately, the airport commission moved to consider contracts for terminals not considered in the original, controversial package.

In a related move, the airport commission on Monday was presented with a list of six concession companies that will likely submit proposals for the next round of retail and dining contracts spanning Terminals 1, 2, 3, 6 and the Tom Bradley International Terminal.

A call for proposals could go out within a month, airport officials said.

Interested companies include

Los Angeles Caruso Affiliated, which is owned by developer Rick Caruso,

who announced earlier this year that he is looking to expand his retail empire to airports across the country, including LAX. Caruso oversaw construction of The Grove outdoor shopping mall in Los Angels and the Americana at Brand in Glendale.
Yes, boys and girls,
that
Rick Caruso, the developer who just donated $2,500 to Hahn's congressional campaign.
My own councilman, Bill Rosendahl, summed up the City Hall/lobbyist merry-go-round better than I ever could. Last summer, upset that a meeting to decided the fate of Groundwork's LAX contract would be postponed yet again,
he almost quit the board.
"I know one thing. This room is full of lobbyists, and they're out there with lots of grins and smiles," he said. "I'm nothing but frustrated by the backchannel crap that's going on."
(full disclosure,

I have endorsed Debra Bowen for Congress

)