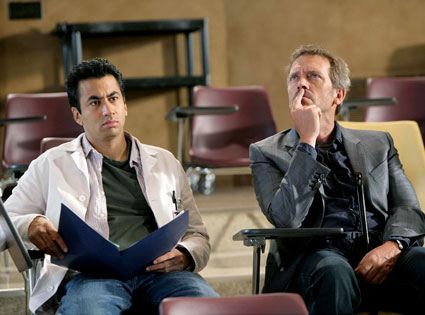 Our volunteers worked with Kal in Eric Garcetti's office to help with Obama's LA Town Hall last month. 

As a working professional in the "business" (I'm a film editor) this is incredible news to me -  Kal is willing to put on hold a career that most working character actors in Hollywood struggle years to achieve.  This is no small sacrifice.

Good for him.
From the HuffingtonPost:
Kal Penn is leaving the show "House" to work in the White House (or at least, in the Old Executive Office building next door). The actor, best known for his role in "Harold & Kumar Go to White Castle," tells Entertainment Weekly :





I understand it was your decision to leave House. True?





KAL PENN: Yes. I was incredibly honored a couple of months ago to get the opportunity to go work in the White House. I got to know the President and some of the staff during the campaign and had expressed interest in working there, so I'm going to be the associate director in the White House office of public liaison. They do outreach with the American public and with different organizations. They're basically the front door of the White House. They take out all of the red tape that falls between the general public and the White House. It's similar to what I was doing on the campaign.





Safe to say you're taking a huge pay cut?





PENN: Oh, yeah. There's not a lot of financial reward in these jobs. But, obviously, the opportunity to serve in a capacity like this is an incredible honor.





How long has this been in the works?





PENN: I've been thinking about [moving into politics] for a while. I love what I do as an actor. I couldn't love it more. But probably from the time I was a kid, I really enjoyed that balance between the arts and public service. I went to a performing arts high school, but I still took a bunch of those dorky political science classes. It's probably because of the value system my grandparents instilled in me. They marched with Gandhi in the Indian independence movement, and that was always in the back of my head. So the past couple of years I thought about it a little more. And in '06 I started this international studies program at Stanford, where they actually let you do most of the course work online. So it was something I could do while I was acting. And I thought this might be the right time to go off and do something else.