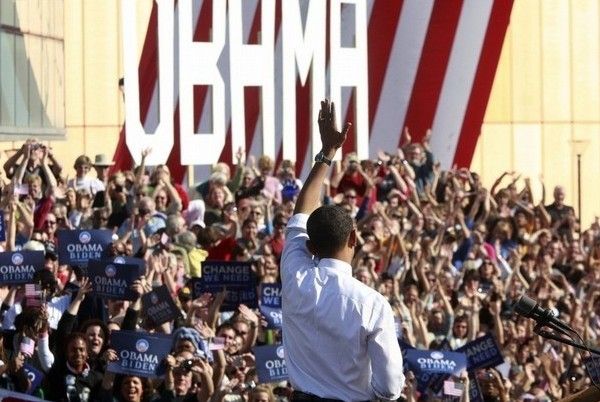 Organizing for America, the campaign apparatus left over from Barack Obama's presidential run, sent out its first call to action on Friday in support of the president's agenda.

The organization, which is now housed within the Democratic National Committee, emailed everyone who has hosted a house party for the president, encouraging them to do the same in support of the White House-backed economic recovery package.

Organizing for American has roughly 13 million e-mail addresses and two million active volunteers, though its strength in helping to advance specific legislative items has yet to be tested.

There has been speculation over how often and to what extent the Democratic Party would take advantage of "the list," the concern being that over-saturation could blunt the response rate and reduce the investment voters had in the new administration. But clearly, Democratic leaders view the stimulus fight as one worth engaging aggressively. House parties aren't the most effective form of grassroots mobilization, but they should be enough to grab the attention of local and possibly state officials.

Below is the complete email sent out by the organization:
Last year, America lost 2.6 million jobs. This week, some of our biggest companies announced plans to cut tens of thousands more.





The economic crisis is deepening, but President Obama and members of Congress have proposed a recovery plan that will put more than 3 million Americans back to work.




You can learn more about how the plan will help your community by organizing an Economic Recovery House Meeting.





Join thousands of people across the country who are coming together to watch a special video about the recovery plan. Invite your friends and neighbors to watch the video with you and have a conversation about your community's economic situation.





The economic crisis can seem overwhelming and complex, but you can help the people you know connect the recovery plan to their lives and learn more about why it's so important.





Sign up to host an Economic Recovery House Meeting the weekend of Friday, February 6th.





The President's plan passed the House of Representatives on Wednesday. But if it's going to move forward, we need to avoid the usual partisan games.





That's why supporters are opening their homes to talk with neighbors and friends about how the plan will work -- and what it means for their community.





The video will outline the basics of the plan and how it will impact working families. It will also include answers to questions from folks across the country. Invite your friends and family to watch the video, discuss the plan, and help build support for it.





Don't worry if you've never hosted a house meeting before -- we'll make sure you have everything you need to make it a success.





Take the first step right now by signing up to host an Economic Recovery House Meeting:








Time and again, you've demonstrated your commitment to change. Now you can help America move in an important new direction.





Please forward this email to your friends and family, and encourage them to get involved as well.





Thank you for your hard work,





Mitch





Mitch Stewart


Director


Organizing for America